As 2018 comes to an end, it's time to think ahead to the New Year and how you can help your family enjoy a more active and healthy 2019 with some (fun and easy) New Year family resolutions. Setting resolutions and goals as a family gets everyone involved and helps teach kids skills like goal-setting and personal reflection.
Here are some family resolutions to help you implement healthy habits for yourself and your family in the new year. Add to this list as you brainstorm together with your family!
1. Opt Outside!
Time spent playing outside has a huge impact on your health. Being outdoors can help lower stress levels, promote sleep, increase energy, elevate mood, and advance motor skills. Make it a point to go outside more frequently this year as your kids free play, do messy crafts, go for a family walk, or do an outdoor workout while they play at the park. Shoot for one outdoor family activity per week!
2. Reduce Screen Time
Sitting less and moving more is key to staying healthy. Activities like watching TV, playing video games, and browsing the web put us in a zombie state and a few minutes quickly turns into hours. Consider setting limits on the amount of TV and tablet time your kids (and you) have for the new year. Try 30 minutes of screen time per day and see how you feel! Be a good example and your kids will be more likely to buy in.
3. Plan Adventures
Make it a goal to go on new adventures together as a family. Plan out a few adventures for the year such as going on a camping trip, taking a short hike to a picnic spot, planting a garden, or doing an outdoor scavenger hunt. Take turns letting your kids choose the family adventure. Even simple things can be big adventures for kids, so get creative and plan adventures in your own backyard.
4. Cook Together
Getting your kids involved in mealtime can encourage them to try new foods and teach them healthy eating habits. Let them go grocery shopping with you and pick out a new fruit or vegetable to serve with dinner. You can also give them simple tasks when you're cooking like measuring ingredients or setting a timer. Maybe you'd like to try "cook as a family" night once a month?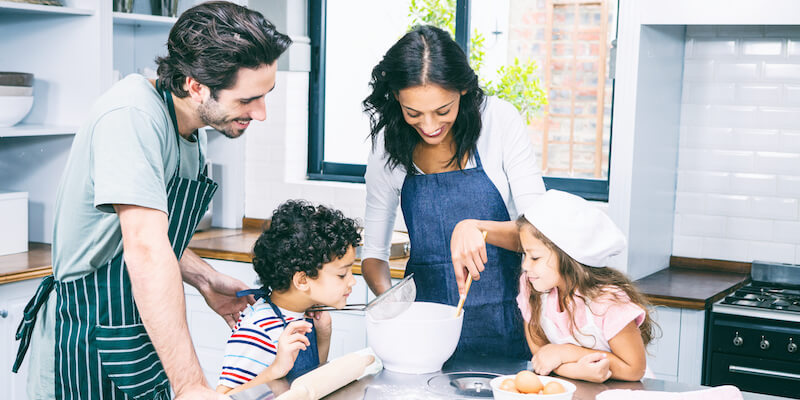 5. Do Chores As A Group
Everyone will get a little exercise (and you'll get a little help) if the whole family participates in chores. Keep a chore jar where kids can pull out a task for chore time. Things like putting away toys, folding laundry, or dusting are simple chores even little ones can help with.
Check in On Your Family Resolutions
Keep your kids involved in the process by letting them add ideas to your resolution list. Maybe they have a new idea to implement mid-year. Their little minds are probably full of ideas you wouldn't think of!
If they need a little motivation to stick with it, build in a rewards system for reaching certain goals. Keep it fun and light-hearted. Resolutions are meant to improve our lives, so grow and play together as a family as you work toward a more active and healthy lifestyle.
Here's to your best year as a family yet!