Between juggling nap schedules, running errands, and trying to keep the house from looking like a tornado hit it, fitting in a workout can seem nearly impossible for busy moms.
But when you manage to squeeze a workout in, the rest of the chaos seems a little more calm. Here's how you can fit in a workout as a busy mom, even amongst all the chaos.
Finding the Time
Finding the time to get a workout in is the most challenging part of working out. In this busy season, you'll have to be creative and get some help from others.
Here's how:
While Your Kids Are In School
If your kids are in school for any amount of scheduled time, that's your ideal chance to get in your workout. You don't have to worry about sibling rivalries, homework help, or any other interruptions. Take a group fitness class and you'll burn calories while having fun.
During Naptime
Get your sweat on while your little ones are snoozing. Put the kids down for a nap and then do a quick at-home workout from a YouTube video or workout app. You'll be done in time for the kids to wake up, and feel refreshed enough to match their energy.
At The Park
Pack the kids in the car and head to the park. You can all soak up a little extra Vitamin D as they play while you get in an outdoor workout. Plus, modeling physical activity is healthy for kids to see and sets them up for an active lifestyle.
Before The Kiddos Wake Up
Set your alarm for 30 minutes before usual and start your day with a morning workout or run. You might not clock in as many Z's but you'll enjoy early morning quiet time and be more productive throughout the rest of the day. No matter how chaotic your day gets, you'll feel accomplished that you got your exercise in before anyone else needed you.
Once The Kids Are In Bed
Not a morning person? Get your workout in during the evening after you put the kids to bed. Late evening workouts help you unwind from your day and have their own benefits including fewer crowds and better sleep. You'll feel better too if you spend your evenings at the gym, instead of on your couch.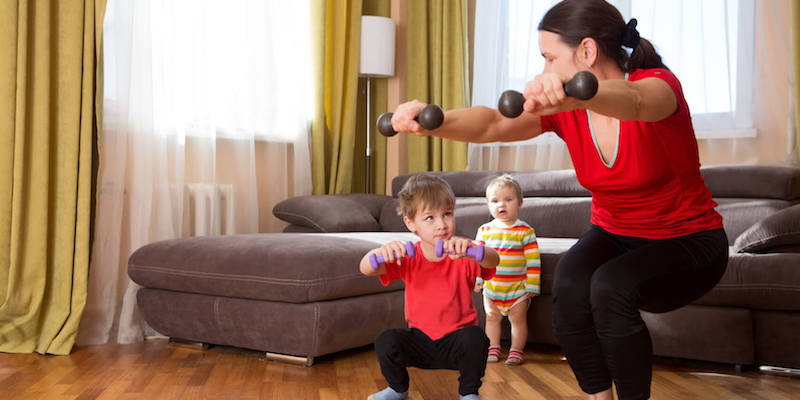 Get Creative
If the season of life you're in just doesn't allow you to get away to work out, that's okay too. Get creative by doing squats while you blow dry your hair, taking the farthest parking spot so you have to walk more, or lunging your way to the bathroom. Know that all these little things add up and that this season of life won't last forever.
Engage the Littles
If you do decide to join a gym, consider finding one that provides a safe, interactive, and engaging childcare experience. That way your kids will be stimulated and entertained, while you get your burn on! Guilt free workouts, here we come!  
Remember: Small Progress is Still Progress
Some days you might just get a few minutes here and there to exercise. And the good news is, that might be all you need. Even 10 minutes a day can be enough to make you feel and look great.