We know that sometimes after a busy workday the last thing you want to do is hit the gym, but it can also be the best thing for you. You'll forget about your workday woes and relieve stress while burning calories and staying in shape! Here are 10 tips on how to make it to the gym, even after a long workday.
1) Pack your bag the night before
Packing your gym bag the night before and loading it up in the morning means you have no excuses to avoid your workout after work. You'll already have everything you need to change into to get your sweat on.
2) Stock up on workout gear
You don't want to add laundry to your already long to-do list for the week. So stock up on your favorite workout gear. Staples from Lululemon, Athleta, Nike, and Sports Basement will keep you comfortable at the gym and get you through the week. Then you can pile it all in the wash over the weekend and reset.
3) Keep a separate shower bag in your gym bag
Save yourself time and stress by keeping all your shower essentials in your bag. This way, you don't have to think about what you need and pack it each night. Don't worry about including too much though. Shampoo, conditioner, soap, and a razor will be enough to clean off and head home.
4) Pack a snack or two
Being hungry will give you an easy excuse to skip the gym altogether and head home instead. Pack a light snack with protein such as an apple and peanut butter or some almonds to curb your appetite and keep you on track with your goals.
5) Know that you don't have to spend all night there
If you have the mindset that all you need is a quick workout, you are more likely to show up. Tell yourself you only have to stay 20 minutes. Then, once you start working out you can see if you want to stay longer. Sometimes a quick Tabata workout is all you need anyway.
6) Change into your workout gear at the office
Putting on your workout clothes before you leave will put you in the mindset that you are going to the gym. It also helps you stay accountable to yourself and your co-workers. After all, they might ask you tomorrow how your workout was. Now you have to go!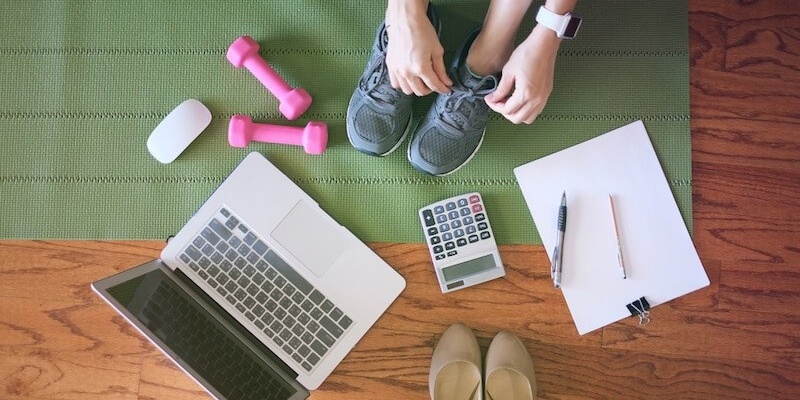 7) Meet a friend
Skip happy hour cocktails and opt for a sweat session instead. Make plans with a friend to meet at the gym after work and you'll both be more likely to show up. You can chat about your boss's new hairdo and the boring meeting you had while working out on the elliptical.
8) Keep extra headphones in the car
Can't move without your music? Keep excuses to a minimum and keep an extra pair, or two, of headphones in your car. This way, you're never without them.
9) Put it on your calendar
Make an appointment in your Outlook or Google calendar for yourself. Having that little reminder pop up can put you in the right frame of mind and keep you from accidentally forgetting to go. Consider scheduling a session with a trainer for accountability.
10) Plan on taking a Group X Class
We know you have minimal brain power at the end of a long workday. Our Group X  Instructors are upbeat and energetic, so all you have to do is show up. Classes are tailored to fit all fitness levels, so we have one for you.
We know you're busy with work, friends, dating, and more. Hitting the gym after work helps ease stress from the day while keeping you on track of your fitness goals. Plan your workouts in advance and you'll be able to better manage all the other areas of your life as well.