Take the guesswork out of your workouts with a fitness wearable! Fitness wearables monitor your activity and health throughout the day, so you don't have to. They can track your movement, including workouts and steps, and other health markers like sleep, pulse rate, and calories.
Take your fitness to the next level with some of these top fitness wearables.
The Garmin Vivosport has similar features of the Vivosmart, and adds a color display and built-in GPS so you can track your indoor and outdoor workouts with ease. Track distance, time, speed, pace, calories burned, and heart rate. The slim profile and stylish, comfortable design mean you can wear it from work to workout. Hop in the shower or go for a swim with it too because it's also water-resistant.
Why we love it: The built-in GPS is the big selling feature here. You can use it for your next outdoor run or ride, mapping out your route while collecting data without lugging your phone around.
Buy it: $169.99. The higher price tag is worth it because of the built-in GPS and you might be able to snag a deal on Amazon or Best Buy.
A more lightweight and improved fitness tracker for the company's third-generation device. The FitBit Charge 3 has a large black and white display and is waterproof. Its slimmer and sleeker design means you can wear it for all occasions.
Why we love it: The screen is 40% larger than the Charge 2, making it a cinch to track and see stats like heart rate, calories, and sleep. The battery life lasts up to 7 days and the touchscreen makes it easy to navigate. It's also completely waterproof so you can track swims as well.
Buy it: $149 for sale at Wal-Mart, or Amazon.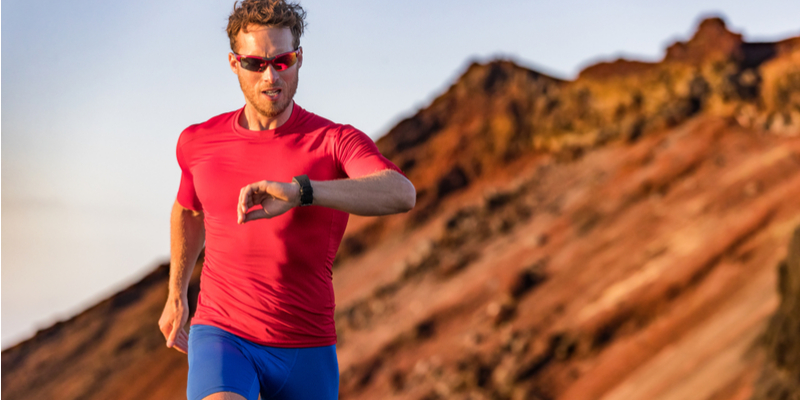 The Xiaomi Mi Band 3 packs a lot of features into a smaller price tag. The daily pedometer, heart rate monitor, sleep quality monitor, and sedentary reminder are just a few of the things you can track with this fitness wearable.
Why we love it: It's budget price tag makes it an easy no-nonsense buy for those who want a fitness tracker without spending a ton. It's also waterproof up to 50 meters and has a long battery life (up to 20 days).
Buy it: $32.99 on Amazon
True to the Apple brand, this watch and fitness wearable is packed with features. A phone, watch, and fitness tracker all in one, the Apple Watch Series 4 offers compatibility from all major fitness apps, GPS tracking, and an onboard heart rate monitor.
Why we love it: The electrocardiogram (ECG) app, goes beyond recording your heart rate, showing heart rhythm and certified by the Food & Drug Administration, making it the first over-the-counter ECG alternative for consumers.
Buy it: Starting at $399 from Apple, Best Buy and Amazon.
Having the right fitness wearable can help you set and achieve your fitness goals. Tracking things like heart rate, calories, and sleep quality can give you an insight to your current health and help you set new goals to up your health and fitness levels.